In Mark 6 Jesus multiplied five small loaves and two fish in order to feed over five thousand people at once.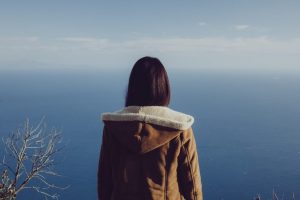 The people were amazed and wanted to make Him their king. John's account of the story adds, "When Jesus therefore perceived that they would come and take him by force, to make him a king, he departed again into a mountain himself alone. (John 6:15)."
It seems apparent that Christ's own disciples shared in the aspirations of the people, and would have participated in the untimely coronation. Jesus therefore sent them to their boat, dismissed the crowd and departed alone to a mountain to pray. He had come to die for the sins of the world. There could be no kingdom before the cross. The disciples, along with the people who had gathered that day, could not see the spiritual greatness of what God was doing because they were fixed on the physical. We might just as easily miss the point of what God is doing in the big picture, because we are fixed on the immediate things of earth, to the exclusion of the eternal.
Life is so short in comparison to eternity. The Bible says that life …is even a vapour, that appeareth for a little time, and then vanisheth away. (James 4:14)" Your near-sightedness may cause you to sacrifice the eternal on the altar of the immediate. Surely you know that there is more to life than meets the eye, a world beyond that which we perceive with our five senses, a spiritual world in which God, Angels and the souls of men will live forever, —an eternal realm out of which this temporal was conceived.
…Or perhaps you are one of the teeming millions who has refused to examine the eternal because you are comfortable living within the perimeters of human understanding. But the Spirit of God is at work to convict and convince you of the urgency of looking beyond the things of this earth in order to catch a glimpse of where you are headed. The prophet of old encouraged his people, "Seek ye the LORD while he may be found, call ye upon him while he is near: (Isaiah 55:6)" This is my prayer for you.