Did you ever wonder what moved the writers of our beloved Christmas carols to pen the precious words that bring joy to our hearts year after year? And did you ever notice how the story of our Lord's birth can be conveyed using only their titles?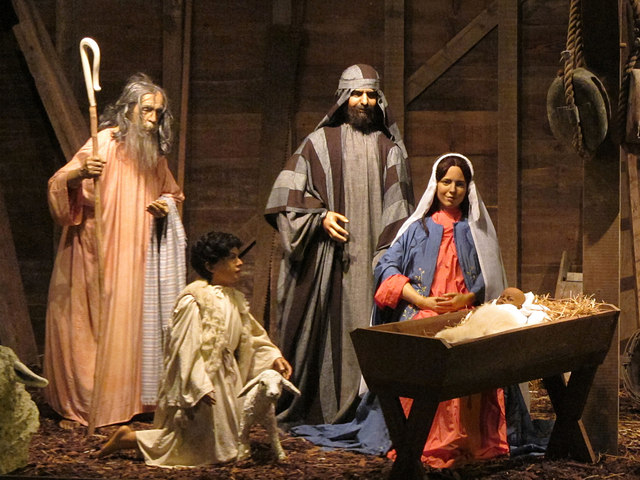 Since the fall of man in the Garden of Eden, mankind has been in need of a Savior. The Bible tells us that from before the foundation of the world, God intended to provide One, and those who knew of His intention prayed diligently, "O Come, O Come Emmanuel." But not until the time was right did those Angels from the Realms of Glory come on that Silent Night, While Shepherds Watched Their Flocks in the fields outside the Little Town Of Bethlehem, to announce God's good tidings of great Joy To The World. The angels told the shepherds that in that very town, Away In A Manger, an Infant Holy, Infant Lowly was born—the Savior, which is Christ the Lord.
And so it has been down through the ages that Good Christian Men Rejoice at the remembrance of that great event that took place Once in Royal David's City where our Sweet Little Jesus Boy was born. He was Of The Father's Love Begotten, that He might save His people from their sins.
Perhaps to our shame, there are still those who would confess, "I Wonder As I Wander down the path of life, What Child Is This?, Who Is He In Yonder Stall?" We can encourage them to, by faith, listen through the annals of time to The First Noel sung by the angels so long ago. Hark The Herald Angels Sing, Glory To The Newborn King!
O Come All Ye Faithful, who know what happened that first Christmas night, …O Holy Night. Let us Rejoice, Rejoice This Happy Morn in that through faith, Angels We Have Heard On High, singing of the Christ Child who was Born To Die that we might live.
Should we keep the real meaning of Christmas to ourselves? No, let us Go Tell It On The Mountain, Over The Hills And Everywhere. How Great Our Joy!