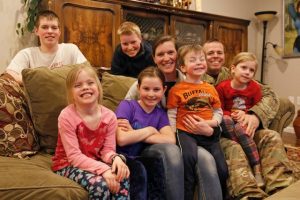 As a pastor I am often amazed at the arrogance with which most parents offer advice about raising children. Amazed because their boldness does not seem to be effected by the mental, social or spiritual development of their own offspring. They may have children who have miserably failed in business ethics, the exercise of social graces, or in their walk with the Lord, but still as parents they boast their methods and motives as if they had turned out champions for the next generation.
Please don't misunderstand me; I'm not suggesting that the faults of every child are the result of parental failure, nor do I believe that good parenting skills are a guarantee that every child will turn out right. But how is it that any mom or dad can be so naive as to think themselves sufficient for the task of molding a young man or woman for God.
My children are raised now, and if there is one thing that raising children has taught my wife and me, it is that we are not sufficient for the task. As we look back at our own experience, we can confidently say that every idea implemented in our home that originated with us, or with one of the self appointed professional parent authors, was a mistake. On the other hand, it is equally obvious to us that every biblical principle and precept that was implemented in our home and tenaciously woven into the fabric of our children's lives has proven itself to be beneficial to them.
In short, parenting has taught me two things: (1) I don't know how to raise kids. (2) God does! The best manual on parenting comes from the One who formed the children in their mother's womb. From that manual I offer this advice: "And these words, which I command thee this day, shall be in thine heart: And thou shalt teach them diligently unto thy children, and shalt talk of them when thou sittest in thine house, and when thou walkest by the way, and when thou liest down, and when thou risest up. (Deuteronomy 6:6-7)."
It is foolish to keep doing the same things and expect different results.