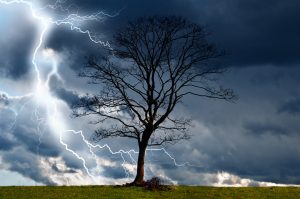 During a recent storm, leaves and limbs from every tree were strewn across the yards in our neighborhood. It is amazing to behold the devastation delivered in minutes by the winds and waves of a common storm.
The Bible speaks of individuals who were moved to fear by the awesome power of a storm. In Acts 27 there was the storm called "Euroclydon" that disrupted Paul's voyage across the Mediterranean Sea as a prisoner in route to Rome. In the midst of the tempest, the soldiers on board would have killed all of their prisoners lest one escape and they be held responsible, but, as God would have it, they were prevented by their commander.
In Mark 4, there was a storm on the Sea of Galilee in which the disciples of Christ, who were seasoned fishermen, feared for their lives while their Jesus rested in perfect peace at the stern of the ship. The Bible says that the waves beat against their vessel and it was full of water. In terror, they awakened the Master, who simply stood and spoke to the storm, "'Peace, be still.' And the wind ceased, and there was a great calm." (Mark 4:39)
So often I find myself, like the disciples, at the end of my resources, in waves of trouble that would conquer my soul. My vessel is filled with the circumstances of life that steal away my confidence and threaten to drown my faith. But I too know the Master, the Lord of the troubled seas, and what's more, He knows me! I have often heard His words, "Peace, be still."
Jesus, the Master of the Seas, wants to know you too; only sin has kept you apart. But praise God, who "commendeth his love toward us, in that, while we were yet sinners, Christ died for us." (Romans 5:8) He was buried, rose again, and has ascended to the right hand of God, the Father. And now, "as many as receive him, to them he gives power to become the sons of God, even to them that believe on his name. (John 1:12)" O how I would love to introduce you to the Master of the Seas!