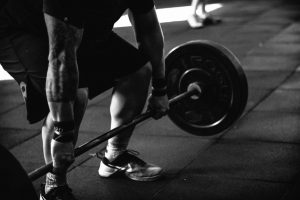 Have you ever heard this old cliché? Though it is very simple, this little phrase is actually profound, and its truth is applicable in nearly every discipline of life.
Several years ago, we took a college tour to expose our church youth to the world of christian academia. On one occasion, our group of potential scholars was led by a hopeful guide through his institution's sports complex. I was intrigued by the door marked "Weight Room." Occasionally, during our short visit, I would peek at the activity going on inside. There were usually a couple of young men engaged in a routine they referred to as "pumping iron." I watched as they inflicted great pain upon themselves, induced by the vein popping strain of lifting weight laden bars.
Something inside made me want to rush to their aid shouting "Hold on there, I'll help you with that." No, I didn't actually do it, but I did have the thought. I knew that these men were athletes and they were there because they wanted to excel on the ball field. They knew that stronger was better, and they were in the Weight Room by choice, ready to endure the pain, in hope of great gain—which had obviously started to materialize.
Similarly, the Word of God reveals that spiritual fitness, especially of our faith, will cause us to excel in the "race of life" into which each of us is necessarily engaged. You will need to embrace two important facts about faith if you desire to excel. First, faith is believing what God says, and what God says can be found only in the Bible. "So then faith cometh by hearing, and hearing by the word of God. (Romans 10:17)" Get into the Word!
Secondly, faith grows when it is exercised (No Pain, No Gain), so James tells us, "My brethren, count it all joy when ye fall into divers temptations; Knowing this, that the trying of your faith worketh patience. But let patience have her perfect work, that ye may be perfect and entire, wanting nothing. (James 1:2-4)." So, look for opportunities to exercise what you believe.