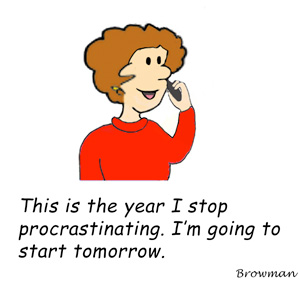 Years ago, I was rebuked for answering my father, "OK, in a minute." We call it procrastination, and we even use it with the Lord. He says "Go", and we say, "Later Lord." …but our excuses don't impress God:
The boy, Samuel, had been "lent to the Lord" for life. "…Samuel ministered before the LORD, being a child, girded with a linen ephod. (1Sam. 2:18)." —You are not too young to serve the Lord NOW.
Martha of Bethany asked, "Lord, dost thou not care that my sister hath left me to serve alone? …And Jesus answered and said unto her, …Mary hath chosen that good part, which shall not be taken away from her. (Luke 10:38-42)." —You are not too busy to serve the Lord NOW.
Moses, deliverer of Israel, first contended… "I am not eloquent, …I am slow of speech. And the LORD said …go, and I will be with thy mouth. (Ex. 4:10-12)." —You are not too deficient to serve the Lord NOW.
Jesus was once asked, "…what good thing shall I do, that I may have eternal life? …Jesus said unto him, …go and sell that thou hast, and give to the poor, …he went away sorrowful: for he had great possessions. (Matt. 19:16-22)." —It will not cost you too much to serve the Lord NOW.
A man once said, "…Lord, I will follow thee; but let me first go bid them farewell, which are at home at my house. And Jesus said unto him, No man, having put his hand to the plough, and looking back, is fit for the kingdom of God. (Luke 9:59-62)." —There is no greater responsibility than to serve the Lord NOW.
Joshua once preached, "choose you this day whom ye will serve …but as for me and my house, we will serve the LORD. (Josh. 24:15). and then he "died, being an hundred and ten years old. (Josh. 24:29)." —You are not too old to serve the Lord NOW.
God calls and equips His servants. We must obey Him NOW!